Course details
New sensation Chinese enjoyment! BIWA course ★ 2 hours with all you can drink 8 items 4000 yen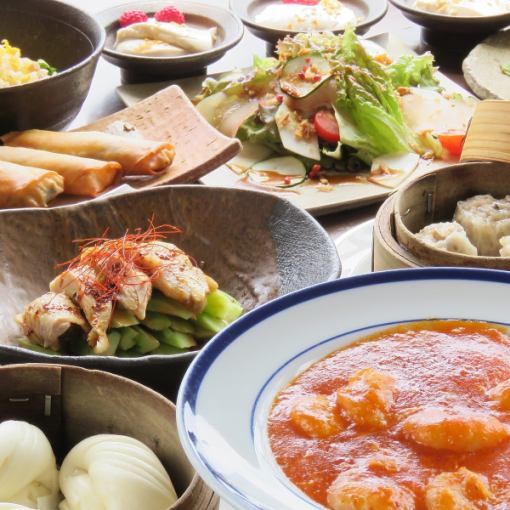 All-you-can-drink available

"All-you-can-drink"
Available days for reservation

Monday - Sunday - Public holidays - Holidays
Satisfaction ◎ Recommended standard course for various banquets! Please enjoy delicious, refreshing, refreshing Chinese food to our hearts ♪ Beer · cocktail · wine · shochu etc etc ... We are preparing various kinds.
Course menu
With dessert! New sensation Chinese enjoyment! BIWA course 【BIWA course】 8 items 2 H with all you can drink 4000 yen
~ Example of dishes ~
"Appetizer"
◆ Sesame sauce of steamed chicken
◆ seasonal vegetable salad
"Dim Sum 2 types"
◆ Taste of vegetables Spring roll
Steamed Shoumai pork
"Nana"
◆ Marbau Wolf
Stir-fried shrimp with chilli sauce
"food"
◆ Steamed rice with Japanese pepper fragrant shrimp prawns and rape blossoms
"Substitute"
Sesame dumplings
※ For seasonal food, there is change.We will prepare recommendations for that day.
※ If there is hope, please consult budget, cooking content.
All-you-can-drink menu
·【beer】
· Sapporo Shizuoka Beer Brewery
· [Whiskey · Highball]
· Whiskey (bourbon or scotch) / horn high ball / dragon high ball / cork high ball / ginger high ball
·【wine】
· Kitty (red / white) / wine (red / white)
· [Shochu · Sour]
· Potato shochu (rock / water split etc) / green tea split / oolong split / jasmine split
· [Shaoxing wine · plum wine]
· Shaoxing wine (room temperature / rock) / plum wine (rock / soda disposal etc.)
·【Cocktail】
· Gin Tonic / Jin Back / Jin Apple / Moscow Muur / Vodka Grape / Vodka Tonic / Rum Tonic / Cuban Libre / Lamb Back / Tequila Tonic / Mexicana / Shandigafu
·【Cocktail】
· Cassis Orange / Cassis soda / Cassis oolong / Fazy group / Campari orange / Campari soda / Mango ginger / Mango orange / Amaret ginger / Amaret milk / Lychee grapefruit / Lychee tonic / Malibu pine / Malibu milk
- [Non-alcoholic cocktail]
· Blueberry Milk / Matcha Milk / Blueberry Ginger /
·【Soft drink】
· Orange juice / grapefruit / apple juice / oolong tea / jasmine tea / coca-cola / ginger ale
2018/09/11 update